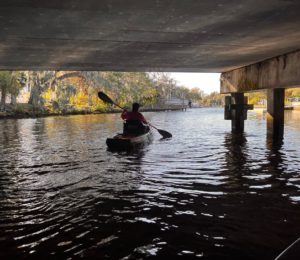 It's been a bit stressful around Beckmania for the last several months. I recently came to the realization that there is nothing I can do about the situation causing anxiety so I am placing it in Jehovah's very capable hands and trying to rely on him to work it out for the good of all parties involved. As a way to put things out of our minds we went out for a day of fun.
We had our meeting as normal on Saturday morning and afterward, we got ready and packed a cooler, the kayaks and headed out to drop in at a local park. Mind you, this was our first trip out with our new kayaks. Loading up was not bad but, for some background, when we purchased the kayaks, we practiced loading and unloading a couple times so we could get our method down. So, we get to the park and notice that the drop point is about 200′ away (ugh), so we unload the kayaks, carry them one at a time down to the drop in point. The nice thing about this park is that it had an ez-dock which was really helpful in getting in and launched. If I had to guess, it took us about 20 minutes to get all this done.
So, we are finally in the water, and we realize my seat was set at the high setting and I needed to lower it, so we paddle over to another nearby dock. I hold on to the dock clamp and the Lord Beckman's kayak strap while he tries resetting my seat (hilarious to watch this all going on I am sure), a nearby fisherman (who apparently felt bad for our situation) came over and held my kayak and we finally got the seat down! We thanked him for his help and finally headed back out.
We were FINALLY on our way out for our first kayaking trip! So exciting. It took almost the whole trip for me to get the paddling method down…it looks so easy when others do this! As we paddled up the river, we said hi to the families sitting out on their docks or the people fishing, they all said hi and chatted with us as we passed by. I always liked that about water related activities, people are so relaxed near the water which makes them friendly. I can only imagine it was designed to have that affect on us by Jehovah.
As we paddled up the river, it was hard work and staying in a straight path was difficult but it was nice, you have to put down your devices except for very brief moments (we had our speaker for music and I occasionally snapped photos) and mainly we talked and laughed with each other. When we are at home, there are a lot of other distractions so we don't do a lot of that, but this day, we got out and had a good time with each other. The bonus is we got some much needed exercise!
After about a mile and a half, we ran into a couple guys who looked tired and they said that the wind was making their return difficult, since this was our first time out and it was getting to be close to 4 pm, we got concerned and turned around to head back. We were disappointed because we were so close to the area we wanted to explore just past all the houses! Turns out we could have gone further because the current was with us on the way back; there were a couple areas we where the wind made it a little harder, but we made it back in half the time it took to get out.
We got back and rolled up onto the ez-dock, some kids sitting there helped me by taking my paddle so I could pull my kayak up. I got out pulled my kayak up and after the hubby did the same, we schlepped the Kayaks back to the parking area, loaded up and headed home. It was an extremely satisfying and tiring day. We spent time out in Jehovah's creation and really enjoyed ourselves tremendously. We learned a lot and look forward to our next kayaking adventure!