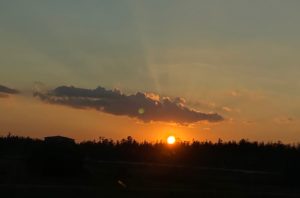 The Apostle Paul was inspired by God, whose name is Jehovah (Psalm 83:18), to write in his letter the the Philippian congregation the following reminder:
Do not be anxious over anything, but in everything by prayer and supplication along with thanksgiving, let your petitions be made known to God

Philippians 4:6
It is hard to stave off anxiety but prayer helps us because we are talking to the Grand Creator about it. There are many reminders throughout the Bible to pray. There are also many faithful servants prayers recorded in the Bible. When we read them, we feel their emotions and we see how their prayers were heard by God and answered. It is the same today. God does not change, nor does he lie, everything he promises comes true; the Bible record compared to history is clear evidence of this.
"For I am Jehovah; I do not change."…

Malachi 3:6
"Every good gift and every perfect present is from above, coming down from the Father of the celestial lights, who does not vary or change like the shifting shadows."

James 1:17
The point of it is – prayer is a gift from God to unload our burdens, we can talk to him as we would a loving father and trusted friend. Thank him for life, creation, and the sacrifice made by him and his son, Jesus. A simple prayer can do wonders for our peace of mind.
This post is inspired by the account in the book of Judges, chapter 20. A Levite man's concubine was raped and murdered by men in the territory of the Benjamites, consequently the other tribes went to the Benjamites to correct the wrong by putting the offenders to death to remove the disgrace and wickedness from among them to keep the tribes clean in God's eyes. The Benjamites refused to give the men up and instead prepared to go into battle against the rest of the tribes. That is the background, here is the point. Before going into battle, the men of the other tribes went to Bethel to get God's instructions as to which tribe should lead them into this battle. They followed God's direction and suffered a loss. They returned and prayed to God again for direction, once again, they suffered loss. They again went to Jehovah and he instructed them to go once more, stating that he would give the Benjamites into their hands during this battle. That is exactly what happened.
My take home from this account is that sometimes when we pray we may not see how the matter is getting worked out, but we should continue to pray, even when it is not going as WE expect. Don't lose faith, continue to pray about it, learn to rely on God. God tells us in the Bible:
Pray constantly.

1 Thessalonians 5:17
Just because we don't feel that the prayer is getting answered does not mean it isn't . Sometimes, the answer is no. Sometimes, what we pray for is out of harmony with God's will, and like a loving parent, even though it is not what WE want, it is what is best for us. He tells us:
"For as the heavens are higher than the earth, So my ways are higher than your ways And my thoughts than your thoughts."

Isaiah 55:9
So bottom line, don't get discouraged or disenfranchised when you feel your prayers are going unanswered. Sometimes, no answer IS the answer and when you look back, you realize that God protected you from your "treacherous heart" (Jeremiah 17:9) and gave you exactly what you needed to get through the situation and come out the other side. When we learn to put complete trust in Jehovah, he will make all our paths straight.