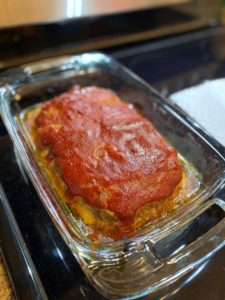 This meatloaf recipe is based on the recipe my parents used when I was growing up. People hear "meatloaf" and go ewe! But this meatloaf has never disappointed and I have never had anyone tell me it was undesirable. It has become a comfort food that even now, as adults, my non-vegetarian kids like to make at their homes.
Pre-heat oven to 400°;
1 lb Ground Beef
1 small can tomato sauce
1 egg
½ pkg onion soup mix
7-8 saltine crackers or alternatively use about 1/3 cup oatmeal (I prefer oatmeal)
Ketchup
Directions:
Mix ground beef, egg, onion soup mix and crackers (or oatmeal) with ½ can tomato sauce in a medium bowl.
Place in baking dish, pour remaining tomato sauce on top of loaf, squirt a generous amount of ketchup on top;
Bake 35 to 45 minutes or until done throughout.