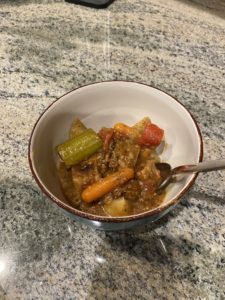 The day the stew shown above was made was a good day around Beckmania. On this day our youngest princess came over to the house to spend an afternoon baking and cooking with the Lady of Beckmania. Together they made this wonderful beef stew, an apple crumb pie and the 100% dairy free pecan pie that the young Princess Shelby took home to her manor. The day was rounded out by some Super Mario Party and the Lord of Beckmania snoring on the couch insisting that he was not taking an afternoon nap.
1 ½ Lbs. beef stew meat
¼ C flour
2 Tbsp oil
2 C hot beef broth
1 Tbsp Worcestershire sauce
1 tsp dried marjoram leaves
2 tbsp minced garlic
1 onion, cut into 8 wedges
5 carrots, cut into 1" pieces (alternatively, baby carrots)
4 potatoes, unpeeled, cut into 1" chunks
3 stalks celery cut into 1" pieces
1 can diced tomatoes, undrained (we prefer using fire roasted diced tomatoes)
1 tsp Lawry's seasoned salt
¼ tsp pepper
Directions:
On stovetop, combine broth, marjoram, onion and Worcestershire sauce on medium heat.
Coat meat in with flour. Using sauté function, heat oil and add meat. Cook until well browned, stirring occasionally.
Add hot broth mixture to meat and stir.
Put lid on cooker, cook at high pressure 15 minutes. When timer goes off, release pressure.
Add other vegetables and seasonings, close cover and cook at high pressure for another 5 -7 minutes longer.
Let cool to reasonable temperature, serve.
We enjoy this stew with crackers or garlic bread.