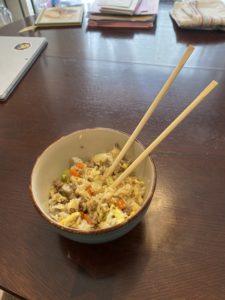 I'm not really sure where this came from but my mom always called it "Japanese" fried rice. It must be a recipe she picked up when we lived in Okinawa, Japan. I don't remember this because I was so young but I enjoy the recipe and my growing up my kids liked it so it is another family recipe that has been passed on and is enjoyed by my kids in their households.
1 lb ground Beef
1 carrot
1 onion
1 stick celery
1-2 egg(s)
Garlic (to taste)
2 bags boil in bag rice
(or desired # of servings Rice)
Directions:
Chop up veggies (feel free to add other veggies as desired);
sauté veggies in pan, scramble egg.
Follow directions for cooking rice, mix sautéed veggies and egg in large bowl or appropriate sized pot; serve.
Season to taste with salt, pepper, soy sauce.