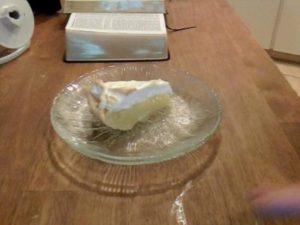 One of my favorite recipes! This is an awesome pie for a hot day. I have taken this to many get togethers and it never disappoints! Unfortunately, I generally use a pre-made pie crust since I struggle with making pie crust…I have a crust recipe that works but I seem to be pie crust challenged.
Preheat oven to 325°
1 baked pie crust
Filling:
½ C cold water
7 Tbsp cornstarch
1 ½ C hot water
1 ½ C sugar
3 egg yolks, beaten
Juice from 1 lemon
Directions:
In a small bowl, mix cold water and cornstarch to make a thin paste. In a medium saucepan, boil hot water and sugar, add cornstarch mixture (whisk while adding to prevent clumps). Transfer to double boiler. Cook about 15 minutes until thick and smooth, stirring constantly.
Whisk a small amount of mixture into egg yolks, then wisk egg yolk mixture into double boiler. Cook together for a few minutes longer continuing to stir. Mix in juice and butter. Set aside.
Meriingue:
1 tsp lemon juice
lemon zest
1 Tbsp butter
3 egg whites
6 Tbsp white granulated sugar
¼ tsp cream of tartar
½ tsp vanilla
In a small bowl, combine cream of tartar and sugar. In medium mixing bowl beat egg whites on medium speed. Gradually add sugar, 1 Tbsp at a time. Add vanilla, beat until egg whites hold stiff peak.
Pour filling into pie shell, spread meringue over filling.
Bake 25 to 30 minutes until delicately browned.