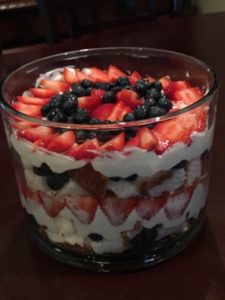 Angel food cake, cubed
1 box instant vanilla pudding (3.4 oz)
2 C cold milk
1 pkg room temperature cream cheese (8 oz)
1 C powdered sugar
8 oz whipped cream
2 pints blueberries
2 pints strawberries, rinsed, hulled and sliced.
Directions:
In small bowl, combine vanilla pudding with milk, whisk 2 minutes.
In a large bowl, beat cream cheese on medium until smooth and creamy (2-3 minutes). Reduce speed to low and gradually add powdered sugar. Once all sugar is added, increase the speed to medium and beat for 1 minute or until thoroughly combined and smooth.
Add prepared pudding to the cream cheese mixture and gently fold and stir with a rubber spatula until completely combined. Add whipped cream and fold into mixture until no white streaks remain.
Assemble trifle: alternate layers of angel food cake, blueberries, pudding mixture, strawberries until you get to the top. Add final layer of pudding mixture and arrange balance of strawberries and blueberries in decorative pattern.
Serve immediately or cover and refrigerate until ready to serve.
Best when served within 24 hours and can be stored up to 3 days in refrigerator.