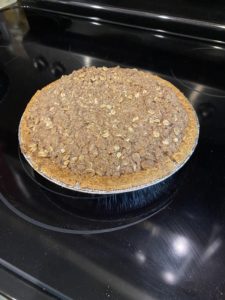 I found an apple pie recipe and doctored it up a little bit and it came out to be this particular recipe. I have received rave reviews; I will not name names, but the comments have been: "This is the best apple pie I've ever had!", "our family had a fight over the last piece of this pie", I don't like apple pie, but I love yours!" TRY THIS RECIPE! You won't regret it!
Preheat Oven to 400°
2 Tbsp. Flour
¾ C Sugar
¼ Tsp. Salt
¼ Tsp. ground Nutmeg
1 Egg, slightly beaten
1 C Sour Cream
1 Tsp. Vanilla
2 C thinly sliced apples
9 inch pie shell (unbaked)
Crumb Topping:
Mix ½ C sugar, 1/3 C flour, 1 Tsp. ground Cinnamon and ¼ C melted Butter in small bowl until crumbly.
Directions:
Sift flour, sugar, salt and nutmeg into large bowl. Stir in beaten egg, sour cream and Vanilla. Fold in apples, spoon into unbaked pastry shell. Bake at 400° for 15 minutes. Lower heat to 350°. Bake 30 minutes longer.
Prepare Crumb Topping. Remove pie from oven. Reset oven to 400°, sprinkle pie with topping. Return pie to oven. Bake 10 minutes longer or until topping is nicely brown.
Variation: add ¼ C oatmeal to crumb topping mixture.