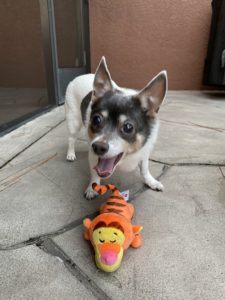 On Saturday, May 15, 2021 we said goodbye to our little ladybug. It was an extremely difficult day; I have never loved a little furry baby the way I loved her. She needed me and I needed her. I have thought about this and feel a little guilty about my other dogs / cats over the years; I was so busy raising a family that they never became more than pets. I loved them, but as a busy single parent, there was not a lot of time left. The pets were for the children, they were taken care of and loved but never reached "childlike" status. Now that my children are all grown my little dogs are like my children. The day I said goodbye to Ladybug was almost like losing a child for me. I cannot explain it, but the pain was so intense. My loving husband, Joe, my baby girl Shelby, and her boyfriend Daniel came to the house to show Ladybug how much she is loved. I sobbed uncontrollably on the floor. I was a mess, probably slobbering and everything.
I am doing better now, a few weeks later, but sometimes when I see her picture, I feel that sadness creeping in and a tear will fall but at the end of the day I know it was best for her to let her go. I know one day thinking of her will not hurt as much and I will be able to smile when I think of her but right now it still feels so raw. She was a great little dog.
I am thankful for groups like Lap of Love who come to your home when it is time to say those final goodbyes. My baby girl did NOT like the car and I could not imagine my last act toward her being stressing her out with a car ride to say goodbye. I got to hold her during her final moments and tell her I love her. I am heartbroken, but I know it was the best decision for her. She struggled since November and was on several different medicines to just get through each day. The final straw was when she was staying awake at night in pain. I could not stand the thought of her suffering. I knew it was time.
Our vet, Quail Hollow Animal Hospital, was tremendous through this whole process. They always said how she was the sweetest Chihuahua they ever treated; she felt like the only dog in the room when she was there. They sent a card and flowers and I think they meant it when they said they will miss her. I think every person in that office had a hand in helping with her care. I am thankful to have such a caring vet.
I could go on, but I won't. I will always love my little Ladybug and I am so happy I got to be her mom during her time here on earth.