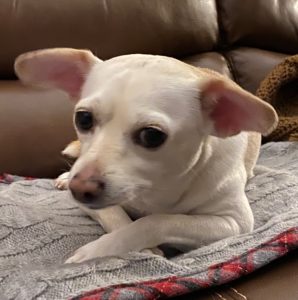 I remember the day we went to pick up this little boy who has wiggled so deeply into our hearts. We went to ASAP animal rescue in Brooksville to see if they had any little dogs that would fit our household. Of the 20 or so dogs in this place, all of which were barking, growling and making other various noises, we saw this little guy, just sitting in his kennel, looking around, not barking and acting crazy like the others. We asked to see him. He really wanted nothing to do with us; the young girl that worked there was telling us how sweet he was and how much personality "Chucky" (his former name) had. She's like "come on man, show 'em your stuff!" He apparently had a friend who was adopted the day before, maybe he was sad, I don't know. As we learned more about his story, it was so sad and so apparent that we needed to give him a chance. He had been there living in a kennel for 6 MONTHS! Poor baby…we think it was because he had heartworms…he was being treated. We were concerned about the heartworms but the vet assured us with the full course of treatment the heartworms could be gotten rid of.
We took a chance, did the paperwork and put him in the car. He was so scared and we were so uncertain of the decision we made. I put him on my lap and we drove away. We missed dinner so we ran through the Burger King drive-thru and I got chicken fries…of course trying to make friends with my new pet, I offered him some. THAT WAS IT! He was my friend. We decided we were not letting him sleep in our room…lol, that first night he was so scared, we "just for tonight" let him sleep on our bed…at our feet. WELL, here we are 7 years later, and this boy sleeps right in between us front paws on one of us and back paws on the other. We sat down with the kids the second day to discuss his name that is when he became Peanut; a perfect name for him!
When we brought him home, he was so buff. Now he's just like us, a little fluffy and he is a chow hound. He loves his treats and is happy just sitting between us on the couch. He loves running with the laser and chasing the mini-drones. He is quite the little sweetheart and brings so much happiness to our family. We are so happy that we took the chance and brought him home! When we come home at the end of the day, he is so excited to see us, he runs to the door and greets us with so much enthusiasm! He is part of our family and is our little furry baby and we cannot imagine life without him.