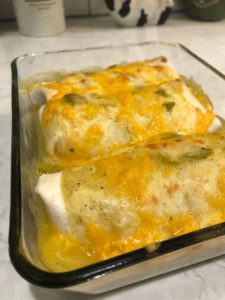 Pre-heat oven to 350°
2 – 3 decent size Boneless, Skinless Chicken Breasts
2 cans Cream of Chicken Soup
1 pkg Large Flour Tortillas
1 can Drained Green Chilis
1 large block Colby Jack Cheese (Grated)
Directions:
In appropriate sized pot, bring Chicken Breasts to boil, boil until cooked through (chicken will be white). In medium saucepan, combine 2 cans Cream of Chicken soup with 1 can of water and about ½ of the green chilis. Bring to Boil, then simmer while Chicken boils.
Prepare baking dish by adding an amount of soup that will cover the bottom of the dish (thin layer) so burritos do not stick.
Cut Boiled Chicken into small pieces, and determine about how much you will use to match the # of tortillas you have.
Add the chicken, a small amount of chilis, a small amount of soup and some cheese to each tortilla, roll up and place in baking dish. When done rolling up burritos, pour balance of soup over top and cover with cheese. Bake until cheese melted (about 15 minutes).
Variation: Before baking, drizzle salsa verde on top.