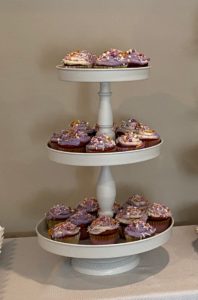 These cupcakes are a nice fall dessert. I made them for my FAVORITE Middle daughters wedding event. Even though I accidently overcooked them because I was using an oven I was not used to, I think they came out good and there were compliments on them, so I will take it!
Pumpkin Spice Cupcakes:
1 ¾ Cups all-purpose flour
1 Cup sugar
½ Cup dark brown sugar
1 tsp baking soda
½ tsp salt
2 tsp cinnamon
¼ tsp nutmeg
2 eggs
1 can pumpkin puree
½ Cup melted coconut oil
1 tsp pure vanilla extract
Cupcake Directions:
Preheat oven to 375°
Place cupcake liners in cupcake pan.
Add flour, sugar, dark brown sugar, baking soda, salt and spices in medium bowl and whisk together. Set aside.
In second bowl, whisk the eggs, pumpkin puree, melted coconut oil and vanilla extract.
Stir wet ingredients into the dry ingredients until mixed together. Do not overmix.
Use a large scoop, similar to an ice cream scoop to evenly fill the liners until nearly full.
Bake for 20 – 22 minutes or until a toothpick comes out clean.
Cream Cheese Frosting:
1 pkg cream cheese, softened to room temperature
½ Cup room temperature unsalted butter
3 Cups powdered sugar
1/8 tsp salt
Cream Cheese Directions:
Beat cream cheese and unsalted butter in mixer on high speed until smooth and creamy.
Slowly add powdered sugar, vanilla and salt.
Beat on low speed 30 seconds, then switch to high speed and continue beating for 2 minutes longer.
For thicker frosting, add ¼ Cup additional powdered sugar.
This recipe makes 12 cupcakes and enough frosting for 12 – 18 cupcakes.