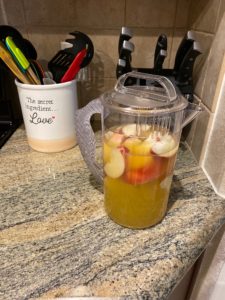 This recipe was given to me by my "favorite oldest daughter". It is delicious and refreshing on a hot day and consists of only 4 ingredients! It tastes best when chilled overnight.
2 fresh peaches, sliced
2 Cups peach juice – Simply Peach is really good in this recipe!
1 bottle of Moscato wine (I found a peach moscato that is wonderful)
1 Cup Peach Schnapps
Directions:
Place all ingredients in a pitcher, I use a 2 quart Pampered Chef stirring pitcher. This makes about 4 full wine glass servings.
Chill overnight or at least until cold, serve.
I usually put a slice or two of the peach my glass of sangria. ENJOY!