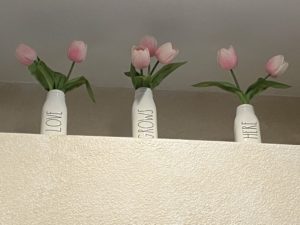 It's good to know yourself…I find myself saying that a lot. Do I know myself? In some ways yes, in many, I honestly don't think so. I want to get to know me better, so I am going through this exercise. Who am I? As you read this, it is not meant to be in an egotistical frame or incite any upset feelings. It is merely an introspection of myself and inner feelings to help me and those I love to understand more about what makes me "tick". I hope it is not taken in any other way.
I am a mother. As a mother, I have made A LOT of mistakes and bad decisions and I think to a certain degree, I may have broken my children a little bit. Mistakes: too numerous to count. Bad decisions: again, too numerous to count, the worst of which were a couple boyfriends after the divorce that I should have thought more deeply about before letting them meet the kids; in my defense, I was broken. The divorce was like a wrecking ball in my life. It was a wrecking ball in the kids' lives. I felt unlovable, worthless, and ashamed for not being able to make my marriage work, like it was somehow my fault it happened. So, having those feelings, I apparently just took what I felt I could get. The consequence, I suffered and more importantly, the kids suffered when, yet another man went away…not by their choice (send offs were all driven by me), they were not old enough to really understand so it took a toll on them. The kids were also affected because I worked a lot, I stayed late many nights to prove my worth for fear of being unemployed when we were barely making ends meet, which means my kids were home alone more than they should have been. I thought I was making them a priority but did not realize the material things were important but not everything, they needed me more than they needed stuff. I hope my kids will one day forgive me for the messes I made.
On the other hand, as a mother, I did some good things, even though money was really tight, we never lost our home, they always had food, the electric and water were never shut off and they were always enrolled in activities like soccer, a short-lived gymnastics stint, softball, swimming and cheerleading. They were told I love you…A LOT. I tried really hard not to say bad things about their dad in front of them and enforced the fact that they were loved by both of us. I was far from perfect, but I did the best I knew how under the unexpected circumstance in which I found myself.
What have I learned? I have learned that I need to let go of these things; nobody's perfect and as my kids have kids and they walk the journey of parenthood, they will learn how difficult it is to raise children with a partner, hopefully they never have to travel the path as a single parent. My prayer is that they may give me forgiveness and "grace" to try and understand where I was and what I was going through. In many cases, divorce is wanted by only one of the partners, in my case that was NOT me. Divorce is worse than loss of a spouse in death because to a small degree you watch them go on with their life without you, there's nothing you can do about it. It hurts and is a huge slap in the face. UNTIL ONE DAY when you find the right person (which I finally did), the one who lights your fire again, who brings you joy, and gives you the gift of moving forward again. I digress…that is another introspection altogether!
In the end, none of the past matters.  What matters now is that I love my children and no matter what, nothing can take away the fact that good, bad, or indifferent, they will always be mine and I love them no matter what happens.  I want to always be there for them, I want them to understand the unconditional love that parents feel for their children, I want to see my grandbabies grow up…I want to see my grandbabies make my babies feel the joys and frustrations of parenting.  I want to give my grand babies candy and Dr. Pepper and send them home! (You're welcome!)
Bottom line:  I don't want the past to dictate my future relationships with my children. 
Proverbs 31:28:  "Her children rise up and declare her happy;" – this is how I want my children and grandchildren to see me.