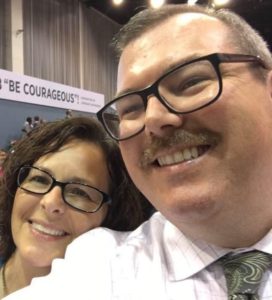 Fear can be a powerfully motivating force in our lives, it can move us to make drastic changes when necessary. As imperfect people, when we think of fear, we think of morbid fear or terror. The Bible tells us to "Fear" God. What really does fear of God mean? Let's think about that for a minute.
In ancient times, when speaking to Moses, God said "you must be in fear of your God"; my whole life I never really understood that phrase. I wondered, why should I be afraid of a God who loves me? As an adult, I have read the Bible a few times, try to study regularly and meditate on what I read; in doing this, I have gained some understanding of this phrase. Fear of God is not morbid fear. Jehovah God is a loving God, his greatest motivation is love.
God created man and woman in the Garden of Eden and as our creator, he loves us. When he claimed the Israelites as his "people", even though they failed him over and over, he continually rescued them. However, as a loving parent, he set boundaries and gave them rules. Unfortunately, Satan's influence and the imperfection of man drove a wedge between the relationship. Later in time, Jesus was sent to earth to teach us about his Father and right the wrongs that took place in the Garden of Eden so mankind could be reconciled to God. While on earth, he taught the truth about his Father, Jehovah (See Psalm 83:13, which reveals this is God's name), when asked by one of the religious leaders of his time "which is the greatest commandment in the Law?", he responded:
"Teacher, which is the greatest commandment in the Law?" He said to him: "'You must love Jehovah your God with your whole heart and with your whole soul and with your whole mind.' This is the greatest and first commandment. The second, like it, is this: 'You must love your neighbor as yourself.'

Matthew 22:36-39
LOVE is the commandment to mankind. Jehovah protected the stiff-necked (stubborn) Israelites out of his love for them, he protects his people today out of love. Even though we are also a stiff-necked people who unfortunately, living in today's world, have to fight hard to do what is right because it seems that there is more negative influence in the world today than there is positive. Although, when we read and understand the Bible, this is not a surprise:
But know this, that in the last days critical times hard to deal with will be here. For men will be lovers of themselves, lovers of money, boastful, haughty, blasphemers, disobedient to parents, unthankful, disloyal, having no natural affection, not open to any agreement, slanderers, without self-control, fierce, without love of goodness, betrayers, headstrong, puffed up with pride, lovers of pleasures rather than lovers of God

2 Timothy 3:1-4
Do you know any people with these traits? I sure do, there are a lot of them out there and it is easier to find these sort of people than it is to find genuinely good people. As we read further in the Greek scriptures we learn why people in our day have these traits and they are becoming more prevalent in society today.
We know that we originate with God, but the whole world is lying in the power of the wicked one.

1 John 5:19
I don't think I need to explain who the "wicked one" is. Just these two passages alone explain why things seem to go from bad to worse in our time. But we do not need to fear. Earlier I brought out that fear is a great motivator; fear of God is not a morbid fear, it is the same fear you feel as a child when you have let down a parent. Fear of God means we don't want to disappoint him, we want to be pleasing to him. To be pleasing to him we must understand his expectations and we do not want to disappoint him because we love him. What is love of God?
For this is what the love of God means, that we observe his commandments; and yet his commandments are not burdensome,

1 John 5:3
How do we know his commandments? Well, we know that love is important to him, but what else does he command? We learn that by reading and meditating on the words written in our guidebook for life, the Bible. The words and principles contained in these 66 books written over thousands of years all harmonize and give us practical answers to living a happy life, pleasing to Jehovah God. One example of the practical nature of Bible wisdom is: while in the wilderness for 40 years, God gave the Israelites instructions about cleanness, how to handle people with contagious diseases, how to handle body waste, etc. all of these instructions were ahead of their time. Eventually, the rest of mankind picked up on these things and medicine has proven the effectiveness of them. The words penned in the Bible are timeless and as meaningful today as when they were written.
For the word of God is alive and exerts power and is sharper than any two-edged sword and pierces even to the dividing of soul and spirit, and of joints from the marrow, and is able to discern thoughts and intentions of the heart.

Hebrews 4:12
God does not change, so the practical wisdom provided in his word is as valid today as it was then. It tells us the things he loves and the things he hates so, even if the illustrations are hard to understand, when we know what he loves and what he hates, we can figure out the things we should do more of, and the things we should work on changing in our lives.
Every good gift and every perfect present is from above, coming down from the Father of the celestial lights, who does not vary or change like the shifting shadows.

James 1:17
When we become parents, we understand the practicality of being consistent in training our children, we know how important it is that they know our expectations and that they can rely on those expectations being constant. Jehovah is the same, he is consistent and his expectations do not change. His love is loyal and it is nice that we can rely on the Bible to teach us about our creator. If we really pay attention to the words of the Bible, we will have peace, we will understand why the world is seemingly falling apart around us, and we will know we have a bright future ahead of us. We do not need to fear.
Do not be afraid, for I am with you. Do not be anxious, for I am your God. I will fortify you, yes, I will help you, I will really hold on to you with my right hand of righteousness.'

For I, Jehovah your God, am grasping your right hand, The One saying to you, 'Do not be afraid. I will help you.'

Isaiah 41:10, 13
What, then, are we to say about these things? If God is for us, who will be against us?

Romans 8:31
Who can be against us? In other words, when we follow God's guidelines to live a life that is pleasing to him, we may have struggles because man has his own way of thinking which on many occasions is not in sync with God's way. Like the apostles, we must be determined to do things God's way and not violate His laws.
In answer Peter and the other apostles said: "We must obey God as ruler rather than men.

Acts 5:29
And he said to man: 'Look! The fear of Jehovah—that is wisdom, And to turn away from bad is understanding.'"

Job 28:28
We need not fear man when we have God on our side. Jehovah God loves us and wants to have a personal relationship with us, of course, need to do our part to learn about him and learn how fear of disappointing him can motivate our hearts to want to be pleasing to him. The wonderful thing is that like our earthly parents, he understands when we make mistakes, he understands our flesh is weak and we are imperfect; his expectation is that we try to do right and when we get it wrong, he wants us to be sorry for it. He wants us to talk to him and apologize and when we are truly sorry, he forgives in a large way.
As far off as the sunrise is from the sunset, So far off from us he has put our transgressions. As a father shows mercy to his sons, Jehovah has shown mercy to those who fear him. For he well knows how we are formed, Remembering that we are dust.

Psalm 103:12-14
How loving; he will not recall our sin if we truly repent. May fear of God motivate your heart to love him and exercise faith in his son, both of whom sacrificed so much for us!