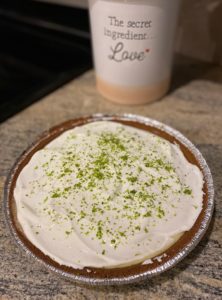 I found this recipe online several years ago. It is an Emeril recipe and I make one small variation – I add lime zest in the pie filling. It is deeelish! Has a nice tang with the sweetness of the condensed milk but tempered by the cream topping.
Preheat oven to 375°
Crust:
1 ½ C graham cracker crumbs
½ C sugar
4 Tbsp Butter, melted
½ C sugar
Directions:
Mix Graham cracker crumbs, sugar and butter in a medium bowl. Press mixture firmly into a 9-inch pie pan. Bake until brown, about 20 minutes. Remove from oven and cool to room temperature. (alternatively, purchase a Keebler graham cracker crust and brown it as noted above)
Lower oven temperature to 325°
Filling:
2 (14) oz cans, sweetened condensed milk (I use fat free Eagle Brand)
1 C Key lime juice
2 eggs
1/2 tsp lime zest
Directions:
In separate bowl, combine sweetened condensed milk, lime juice, and eggs. Whisk until well blended and pour into cooled pie shell, add lime zest. Bake 15 minutes, then chill at least 2 hours.
Topping:
1 C sour Cream (I use light sour cream)
3-4 Tbsp powdered sugar
1 Tbsp lime zest
Directions:
Once filling is chilled, combine sour cream and powdered sugar and spread over the top of the pie using a spatula.
Sprinkle lime zest over top, serve and ENJOY!